The world of news and politics this week was largely about relationships – different kinds, different sizes – and that seems fitting for The Brush-Up, right?
I recommend taking a look, committing to memory, then sticking these in your back pocket right next to the condoms: cause if you bust these out, you're going to get some ACTION.
1. There's a new Prez of France and the First Lady isn't his wife


So Sarkozy's out, and socialist (actual socialist) Francois Hollande is in as France's new President. (Here's a pretty good general profile on him.) This has all sorts of implications, for France domestically, for the EU generally, and for German Chancellor Angela Merkel in particular.
But another interesting little tidbit is that Valérie Trierweiler, France's new First Lady, isn't actually Hollande's wife. And this is a first for France, an unmarried couple residing at the Élysée Palace. There's already been some pressure on the two to get hitched now that Francois is Prez, and it raises all sorts of interesting complications, like what to do when they travel to, say, Saudi Arabia, where cohabitation without putting a ring on it is not just frowned upon but, you know, illegal.
And what does Ms. Trierweiler have to say about taking on a more traditional role?
"My perception of life is not to ask François Hollande, who isn't the father of my children, to support me financially."
 Dating Segue: Ummm…could you ever see a U.S. first lady getting away with that?
2. Facebook "in a relationship" with the public, but with co-founder and USA "it's complicated"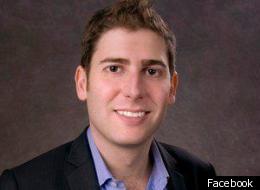 This has been everywhere this week: Facebook's going public. If you need an econ refresher, all it means is that Facebook shares will soon be traded on the stock market (starting at $38 a share), setting the company's value at a whopping $104 billion.
Facebook co-founder Eduardo Saverin also made news this week by announcing that he's renouncing his U.S. citizenship so he doesn't have to pay taxes here when his stock gains value! Everyone's been tearing into him, not least Senator Chuck Schumer (D-N.Y.) who said Saverin "wants to defriend the United States" and that he "won't get away with it.
Them's fightin' words, and Schumer (along with Senator Casey of Pennsylvania) is backing it up by introducing legislation that would force ex-pats like Saverin to pay a 30% tax on future capital gains, and would bar them from ever returning to the U.S.
Dating Segue: Is that too harsh, or should you treat people who renounce citizenship to avoid taxes like traitors? Also – are you going to buy any shares of Facebook, or what??
3. Super PACs: What are they, and why do they matter?
You may have heard a lot of talk about super PACs already, and I promise you're only going to hear more between now and November, so I figured it would be a good time to do a little once-over.
The Gist: In 2010, the Supreme Court ruled in Citizens United v. Federal Election Commission that the government can't restrict corporations from independent political expenditures. It basically rolled back any campaign finance reform progress that had been made over the last decade, and now the amount of money that can be spent in elections is essentially limitless.
So you've got groups (on both sides of the aisle) raising all kinds of money to unleash all kinds of ads on behalf of the candidate (and that is the Relationship distinction: the actual campaigns aren't allowed to have any contact with the super PACs that support them, so technically, they can't coordinate with each other.) Karl Rove generates tens of millions for his conservative "super PAC," and Bill Maher donates $1 million to the Obama-leaning one.
Why do they matter? The honest answer is, we're about to find out. This is the first presidential election since the ruling, and a lot of people are wondering what impact all this money is going to have. Remember, in '08 Obama crushed McCain in fundraising, and it undoubtedly helped him clinch the thing – but these outside groups make it a whole different game. The fundraising that matters isn't just the campaigns themselves – it's the "independent" groups alongside them.
Dating Segue: Is money free speech? Should it restricted in election campaigns?
BONUS TRIVIA!
Are there more Dead Kennedys, or more Dead Kennedys?